Informative
How and When to Use Facebook Messenger Bots
Do you receive countless messages, questions, comments and complaints from your customers via Facebook Messenger? Do you want to use your time efficiently and automate the most common customer interactions?
How and When to Use Facebook Messenger Bots
Do you receive countless messages, questions, comments and complaints from your customers via Facebook Messenger? Do you want to use your time efficiently and automate the most common customer interactions? Read this blog to find out what's so special about Messenger Bots and what was recently announced by Mark Zuckerberg at the annual Facebook F8 Conference in San Jose, California.
What is a Bot?
Bot is a general term for any software that automates a task. Bots, which anyone can now build into Facebook Messenger, automate a conversation, at least the beginning stages of it. What's so special about the bots is that they're created using Facebook's Wit.ai Bot Engine, which can turn natural language into structured data. This means that bots are not only able to understand conversational language but they can also learn from it. In other words, your bot will get 'smarter' with each interaction.
5 Ways of using Bots in Messenger
Here are five ways of using Facebook Messenger bots with different business goals in mind:
1 Create personalised content experiences
You can use bots to focus on content as part of your content marketing strategy. This can help you fostering your relationship with your customers and provide immediate value.
Whole Foods Market, for example, is using bots to help its customers find new recipes. They just need to enter requests like 'breakfast recipes' to get suggestions for different types of meals, or move through a series of questions for personalised recipes.
When customers tap to view a recipe, the bot then takes them to the recipe on the Whole Foods Market website. This is a clever way to generate more traffic from social media without it feeling annoying or forced.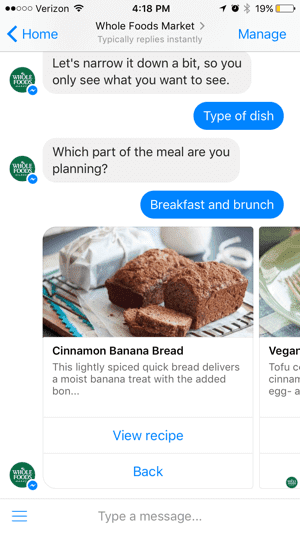 2 Answer frequently asked customer service questions
Another popular way of using bots is to provide customer service. Is your customer service team asked the same questions over and over again? This is a great way to answer some of those questions.
Domino's Pizza, for instance, gets hundreds of calls from customers wanting to know when their pizza will be delivered. Via the bot, customers can order directly from it bot and track their order. This, in turn, cuts down on calls to the store.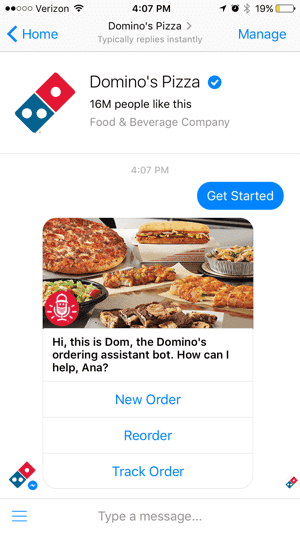 3 Streamline product purchases
You can also design bots to help you boost sales and increase your profit. Indeed, you can use the bot to show customers the products they're looking for and trigger sales right in the Messenger app.
A good example is the flower business '1-800-Flowers.com' which uses the bot for selling, making it easy for consumers to order flowers through Messenger. The bot simply asks for the recipient's name, phone number, and delivery address. Then it prompts customers to choose what category of products they're looking for and display relevant products. Once users select an item, the bot asks them to schedule the delivery and provide billing information. Thanks to this bot, the process is simple and easier than trying to navigate a mobile site.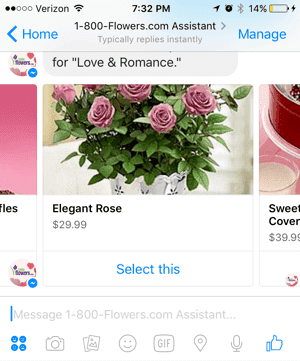 4 Nurture relationships via entertainment
If you want to build and nurture relationships with your customers, consider designing your bot simply to entertain them – but only if this approach fits your brand.
Trivia Blast, for example, uses its bot to focus only on entertainment. Once people send their first message, the bot will regularly send messages to them with calls to action to play with them.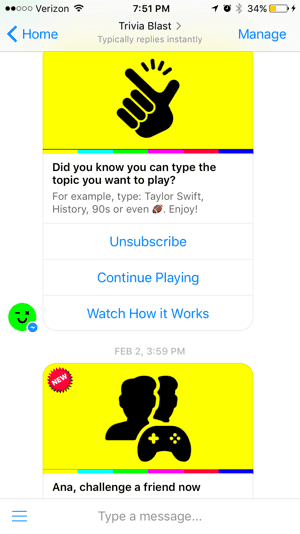 5 Offer specialised services
Most businesses have their own mobile apps that offer automated services. With bots you can take this a step further by offering services in the Messenger app itself.
RemitRadar, for example, lets bot users use automated services to send money, pay for international mobile when abroad, request exchange rates and find other money transfer locations.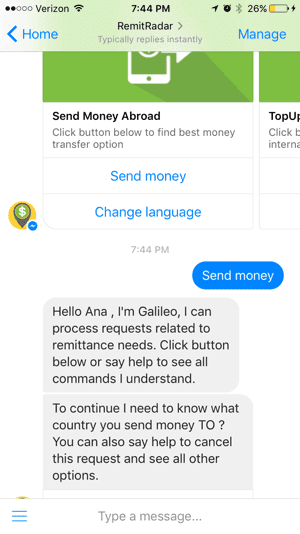 Improving day by day
With the new features announced at the Facebook F8 Conference, Facebook has made it easier for businesses and users to find value in bots. With the new Messenger Chat Extensions, users can watch sport games and get information on current sport scores, or create a playlist together on Spotify. With the new Discovery tab, it's easier to browse bot categories, see trending experiences or search for specific bots. This in turn makes it easier for your business to get found. Soon, you will also be able to sell sponsored placements in the discovery tab. Moreover, with Facebook's virtual assistant, M Suggestions, your business will be more likely to get recommended to users if they are mentioning certain needs and wants in their conversations. For example, if someone says 'let's order food tonight', M will recommend your bot for making an order. Finally, Facebook has revamped its Messenger QR Codes, which can be scanned at concerts, sport games or other events. This in turn can increase your sales during a sport game for example when people scan codes to order food or get a sneak peak into your merchandise catalog.
Why use Bots
More and more people are using Facebook Messenger to get in touch with businesses and get answers to their questions. Even though Facebook Messenger allows you to manage the influx of customer messages, you'll never be able to respond as efficient and as fast as expected from your customers. Social media users are used to timely responses, so you must adapt and find a way to respond fast. This is where Facebook Messenger Bots come in. They make it possible for you to automatically provide consumers with immediate responses. These bots can answer basic questions which means you'll have more time to handle more serious customer concerns or issues. Keep in mind, the easier you make it for your customers to work with you, the more profit you will make.
Benefits of using Bots
Possibility to reach 1.2 billion active users
More profitable than launching the over-saturated app-market
Automates basic customer interactions on the web
Lets you deliver more personalised experiences
Improves your customer support
Boosts your online availability
Allows you to provide instant support
Lets you improve efficiency by taking over tasks for which humans are not essential
Get awesome content in your inbox each week.