Industry Update
WhatsApp Turning into an Advertising Opportunity
WhatsApp might soon turn into a social advertising opportunity for businesses. With more than 1 billion daily active users it makes sense for Facebook to turn it into an advertising platform. Whilst WhatsApp Business is still in its testing phase, advertisers will soon need to prepare and consider WhatsApp as a new communication, marketing and advertising channel.
WhatsApp turning into an advertising opportunity
How many times per week do you use your phone to WhatsApp your friends or colleagues?
It's true. Communicating via WhatsApp and sharing videos, photos and voice messages has never been so easy. All that personal data that gets collected might soon get turned into a business model by its owner Facebook.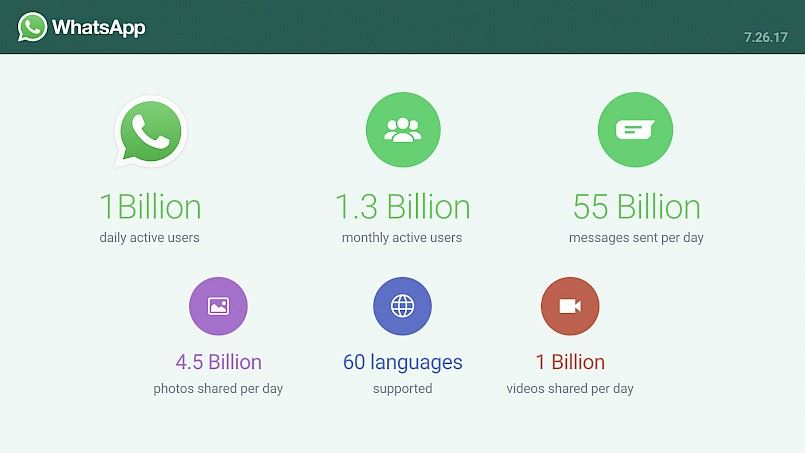 Facebook turning WhatsApp into new advertising opportunities
You might remember that back in the days, the founders of WhatsApp fought for an advertising-free platform. Now, several years later, Facebook as the new owner has a slightly different point of view. It wants to turn the social app into an advertising opportunity. Wait, what? How did it all start?
Facebook, Messenger and Instagram attracted more and more users due to their constant new features and possibilities. At the same time, Facebook was collecting more and more data. This way, businesses could start reaching the right audiences through specific targeting.
In turn, Facebook made 26.2 billion profit via its advertising tools. Facebook is now dominating the global total social media ad spend with more than 65% of the total ad spending market. No wonder that Facebook thinks that now is the time to turn the app into a social platform.
New social features for WhatsApp
With more features appearing in WhatsApp, the chat app is turning more and more into a social media app. Let's take the example of WhatsApp Status where users can post what they are up to in a visual way. According to Facebook, there are 250 million people that use this feature on a daily basis. The recent launches of WhatsApp Live and being able to delete sent messages all aim to make the app even more attractive to current and new users.
WhatsApp for Business
With more than 1 billion daily active users, it makes sense for Facebook to turn the messaging service into a business opportunity. For the time being, WhatsApp is still testing its new business tool as part of a closed program.
Different companies will be able to use Whatsapp for different functions. Think of flight updates from an airline or delivery notifications from a courier. In the Netherlands, KLM is the first airline with a verified WhatsApp business account. If you want to try your luck and become one of the testers, try it here.
WhatsApp will add more and more businesses to its testing phase over the coming months. As WhatsApp business is still in the development and testing phase, it is not official yet what the final release will look like and how it will work. But until now we know the following facts:
WhatsApp Business will be an extra app, next to the normal WhatsApp
There will be the possibility to set up a business profile including name, location, description, website
Business accounts will be verified with a green checkmark
There will be simple statistics available (e.g. number of sent, received, read messages)
Customers will receive automatic messages when absent
What does this mean for advertisers?
WhatsApp Business will be an app for businesses that is optimised and adapted to the demands and wishes of advertisers. Especially if the app includes targeting and statistics, this app will be attractive to marketers and advertisers. WhatsApp Status (which can be compared to Instagram Stories) could give advertisers the chance to place ads in between friends' statuses.
Moreover, with 250 million users per day, advertisers could benefit from a wide reach. Via the data gathered through WhatsApp, advertisers can then also use Facebook to show WhatsApp users better ads. For example, users might see an ad from a company they have already been in contact with rather than from one they have never heard of.
In the end, it seems that advertisers need to prepare and consider WhatsApp as a new communication, marketing and advertising channel.
Get awesome content in your inbox each week.