Strategy
Best Digital Advertising Strategies for your Webshop
Nowadays, placements such as Facebook, Instagram and Google allow you to get valuable insights and meaningful targeting, which will make your advertising process much easier. Let's say you've got a jewellery webshop —what would the advantages be for your business, and how could you make use of the advertising strategies at your disposal? If you're asking yourself these questions, you've come to the right place!
E-commerce marketing
E-commerce is the act of selling goods or services through a webshop. Instead of driving customers to brick-and-mortar establishments, you make use of marketing (or advertising) strategies to lead customers to your site.
For your jewellery webshop, you won't need to worry about geographic limitations (customers from all around the world will be able to access your shop) and let costs. Instead, you'll embrace the possibility to deliver your jewellery to your customers so that they arrive safely and you'll expand the capacity of your shop. But how do you achieve this? What's the best way to advertise your webshop? We'll tackle these in the next section.
Steps towards marketing your webshop
Now that we've covered the advantages of setting a webshop, it's time to figure out how to advertise it.
As we've said, digital technology is the prime method of advertising in the modern era. Because we live in a high-style media-intensive culture, we use digital platforms such as Facebook, Instagram, and Google to place our ads. The process is relatively simple: first, understand your marketing goals; second, define your target audience and, finally, create relevant and appealing ads. Let's go through the first steps towards advertising your jewellery webshop: setting your marketing goal. In the case of advertising jewellery, consider the following two options:
To attract visitors to your webshop: Traffic campaigns.
To encourage your visitors to purchase on your webshop: Conversions campaigns.
1. Understand your marketing goals
To advertise your jewellery webshop, we'll go through the recommended goals: Traffic and Conversions—both taking Facebook and Google Ads into account.
Facebook Ads
Traffic
You might've heard that, on Facebook Ads, there are several types of goals for your campaign. Of course, which one you choose depends mainly on your experience in digital marketing.
The first option, in this case, will be to run a Traffic campaign. This strategy is the most basic and direct way of not only getting customers to know your business but also driving them to it. In this way, your audience will get to know your website and your products. Now you've gone through the first and second steps of the advertising funnel: awareness and consideration. You can read more about this funnel and how to use it for your marketing strategy here.
Conversions
Once you've gathered enough people who've visited your webshop, you'll want them actually to convert. This stage is the third step of the funnel: transaction.
For this reason, you might want to run a Conversions campaign, a goal that requires you to install the Facebook Pixel. The Pixel is a tool that will help you analyse and measure events on your website. Examples of events are Add to Cart, Add to Wish List and Purchase​​​​ (for more information, you can read more about the importance of the Pixel in this article). A Conversions campaign—and thanks to the Facebook Pixel—is then one of the best ways to record events on your webshop.
In your campaign overview, you can choose KPIs such as Cost per Result to see how much you're paying per conversion. Furthermore, Website purchase ROAS allows you to see the total return on ad spend from website purchases. This KPI is calculated based on the value of all website conversions that Facebook attributed to your ads.
Google Ads
Running ads on Google can help you grow an online presence and thus increase brand awareness. In this way, your customers will take notice of your brand and will gradually become more acquainted with it.
Google's method for advertisement is using Keywords. How do these work? Potential customers on the web will show interest in a specific word or category (e.g. female jewellery). Afterwards, Google will automatically match them with the keywords you've selected for your webshop.
If a customer is interested in your product but doesn't feel like dropping by a brick-and-mortar shop, they will search for 'Jewellery webshop' on a search engine. Thanks to these keywords, your webshop will be first on the Google results list.
Traffic
If you're going for a Traffic campaign, potential customers can find you by different approaches:
By your brand name (e.g. My Jewellery Webshop)
In specific categories (e.g. jewellery-related words such as rings, bracelets, necklaces etc.)
In a specified location (e.g. if you can only deliver within a particular region)
Conversions
If your goal is one step ahead, then opting for a campaign focused on conversions (i.e. purchase) isn't a wrong choice at all. In a Sales campaign, By using remarketing lists, you can retarget visitors with specific campaigns tailored to them. As you go one step down in the funnel, you make your target audience ready to convert.
2. Define your potential customers
Now it's time to determine who will see your ads. To offer the most relevant advertisements, you'll need to be as specific as possible when targeting your (potential) customers.
Facebook Ads
Traffic
Your traffic campaign will be the chance to drive potential customers to your webshop. But, since you don't have a customer database yet, you'll need to look for them.
An Open Targeting audience is a good option in this case, but, again, you'll need to be specific. Targeting 40 to 60-year-old women who are interested in fashion and have a middle to high income isn't enough. Instead, try including additional interests to your audience by asking yourself some questions: What sort of clothing matches with the jewellery you sell? Are men potentially interested in your products as well? Do you feel women with an active social life are most likely to purchase your jewellery? There are endless questions you can ask yourself that will eventually lead you to the best advertising practices.
Finally, you can tweak your Open Targeting audience by adding, for example, specific locations and grouping (why not include your Facebook page fans in your audience?).
Conversions
Have you already gone through the first step of the funnel? Then start building your audiences for your Conversions campaign. At this stage of the game, your most valuable target group will be your website visitors. That's why, in this case, a Website Custom Audience will be your saviour!
Recollect people who've seen your products, been on your homepage, and so on. For instance, you've found that many people have added to cart but haven't made a purchase. This process is what we call Retargeting. Find those customers who've pulled a step back and bring them back to your business.
Google Ads
We've mentioned that Google Ads work based on Keywords. That's why, before going to the Ads step, you'll need to move on to the Set up ad groups section and create them. The result of using keywords is merely generating brand awareness, ensuring customers are led to your website when searching those terms on Google. Considering jewellery, you'll get several suggestions made by Google that contain adequate keywords for your webshop and the product you offer.
Furthermore, you can get a glimpse of the monthly searches of these keywords, which will help you get the gist of what people usually search. Nevertheless, if you don't agree with Google's suggestions, you can create your own. For example, if you specialise in jewellery made of gold, you can create a keyword containing the words gold jewellery.
3. Create your ads
Yes, you've reached the last step! Whether you're going for the Traffic or Conversions/Sales campaign, you'll surely want to lead your customers to your webshop anyway. Before you create your ads, we've got two tips for you:
Try to make the ads reflect the essence of your business: the style of your ads needs to be similar to the landing page. For instance, if the primary colours of your jewellery webshop are white and golden, try and include those colours in your ads. The customer's reliability on the page will increase, and they will feel you, as a marketer and seller, are reliable too.
Be just as sincere as you need to be in your ads. Gain your customer's trust; tell them what they should expect in a way that is still encouraging them to buy. If you don't offer Free Shipping, don't include it in your ad!
Facebook Ads
Among all the ad types on Facebook, a link or carousel ad are options to be considered for your jewellery webshop. Rather than selecting just a photo of one of your products, go for that of someone wearing it too. Your customer needs to know what to expect!
On the other hand, Instagram stories ads are also an excellent way to go, since they've been a trend for a while already. Among the different options, a carousel is a highly appealing way of showing examples of your products to customers. Give them a little variety and show them what your business is up to!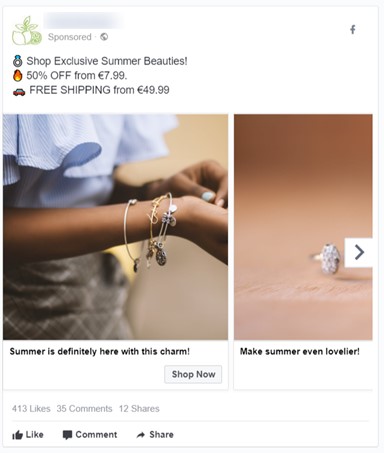 For both your Traffic and Conversions campaigns, you'll need a Call To Action: a button that will induce a viewer to perform a specific action, such as Shop Now. Also, don't forget that, if you're using a link or carousel ad, you'll need to avoid using too much text. Keep it simple; you'll want your customer to be able to skim through your ad and already get a glimpse of what you're advertising. Sometimes a few sentences are more than enough.
Google Ads
Search Ads on Google look pretty different and don't require images or videos. Since ad quality plays such an essential role in how much you pay for your ads, you'll want to keep it as simple, eye-catchy, and neat as possible.
To create a Search Ad, you'll first need to fill in a Final URL (your destination URL, i.e. landing page). Then, create two Headlines (an appealing introduction that suits your webshop and the name of your business). Finally, you'll need to come up with one or two Descriptions (what you offer and what your business is about). If you're wondering how your ad will look like on desktop, you can see the preview right above the word Mobile.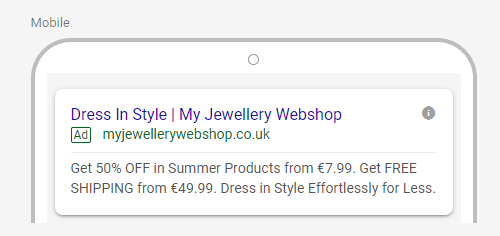 So you're all set now—time to publish and get the first results.
We've mentioned the definition of e-commerce and its advantages. Then, we went through the three steps towards building your digital advertising strategy for your jewellery webshop, both on Facebook and Google Ads.
We answered questions such as how to determine your campaign goal and target group and, finally, best practices for your ads. These are just some suggestions, but there are endless ways in which you can advertise your webshop, in a way that is appealing and engaging for your audience.
Perhaps you've just started with advertising, or you're a marketing savvy. No matter how much experience you've got, digital advertising is a handy and efficient solution for your business. Fancy expanding your knowledge? Subscribe to our newsletter and stay tuned for more blogs!
Get awesome content in your inbox each week.