Industry Update
Introducing Carousel Ads to Instagram Stories
Carousel Ads have long been a popular ad creative option amongst advertisers as this format allows you to showcase several images or videos within a single ad. The same can be said about Instagram Stories ads as over 400 million accounts use this feature on a daily basis. It enables companies to tell a story, whilst immersing their audiences and representing a more authentic and engaging way to view ads. What if we told you that you can now combine both ad formats using The Next Ad's platform?
Earlier this year, Instagram revealed that it would be introducing Carousel Ads for Instagram Stories, allowing advertisers to include up to three pieces of media content (image or video) per Stories ad. Carousel Ads for Instagram Stories essentially work in the same way as other Stories content, allowing viewers to pause, tap through or swipe back and forth between cards.
Now, The Next Ad is glad to announce that this ad format has been made available through our own platform! As is the case with other ad types, the Instagram Stories Carousel ad can be found through the Campaign Wizard after you have finished setting up the Campaign Settings and Audiences.
As can be seen below, the Instagram Story (Carousel) option has been added to the bottom of the ad types list.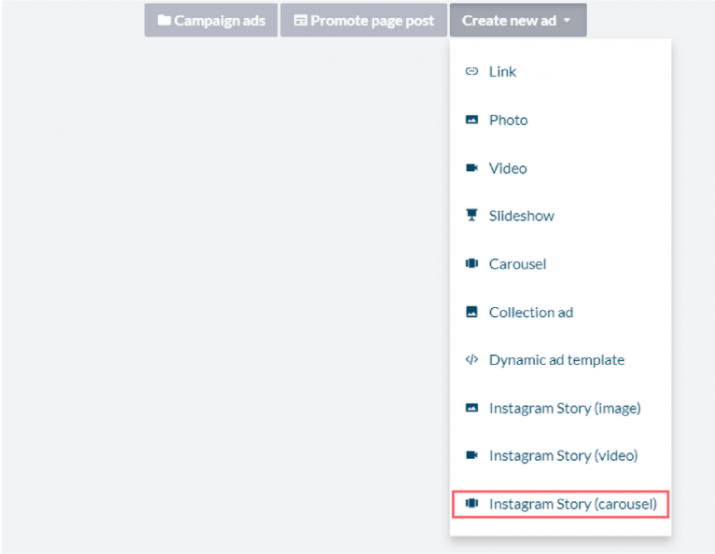 We spoke to one of our Campaign Managers, Annebelle, to get an idea of what she thinks this new addition to our platform can offer our users. "The Carousel ad format for Instagram Stories creates a really exciting, new opportunity for brands." "It will now be possible for brands to create a storyline and create Instagram Stories that are more interactive." She added: "We've already seen some very good performances on Instagram Stories ads so far and with the addition of this new feature, even better results are possible!"
We're really excited about making this addition available to you on our platform. What do you think of this recently developed ad format? Are you considering using it for one of your upcoming campaigns? Here's your chance! And if you haven't signed up yet, why not try our free two-week trial and find out what it's like to work with an Official Facebook Marketing Partner?
Get awesome content in your inbox each week.