Product
Quick Review of WhatsApp's Latest Updates
Nobody can dispute the unquestionable success that WhatsApp has had in recent years as over 1.5 billion users in more than 180 countries make WhatsApp the current most-popular messaging app in the world. This was made even more evident at last year's F8 Conference when Facebook revealed that WhatsApp Stories, more commonly known as Status had hit over 450m daily active users, surpassing all other social platforms when it comes to Stories usage. So we thought you might be interested in hearing about WhatsApp's latest updates from the last month!
WhatsApp Status
According to recent reports, WhatsApp's version of Stories know as 'WhatsApp Status' has hit 500m daily active users with Facebook and Instagram Stories hitting those milestones too. The importance of the Stories format has proven to be of significant importance for these social platforms as more and more users turn to this format to share content and personal updates to the rest of their friends and followers.
Sharing WhatsApp Status Updates on Facebook
An interesting update that does seem to be around the corner though, is that WhatsApp Status updates could soon be shared on Facebook as Stories. There's been a lot of talk about integrating Facebook, Instagram and WhatsApp into one common platform and this could be the first sign of it being implemented.
Though it is still being tested and isn't yet available, users are soon expected to be able to share a Facebook Stories update through their WhatsApp account, presumably after connecting these accounts to each other.
Limiting Group Invites
Are you tired of being in so many WhatsApp groups that you never even wanted to be a part of in the first place? Have you also got 7 groups on mute that you rarely even look at, let alone respond to?
Then you may want to check out this new update. Through a new feature, many WhatsApp users can now control who has permission to add them to groups. Facebook believes this will "help in limiting abuse" whilst keeping people's mobile numbers private from being exposed to large numbers of people without permission. In addition to that, WhatsApp is also going to introduce an invite system for those who would like to enable additional protection, allowing users to make a decision on any incoming group invites before actually joining.
In order to set this up visiting Settings on your WhatsApp application.
Then click on Account > Privacy > Groups. You will then have the choice to choose from one of the 3 options regarding who can add you to a group chat. These are: "Nobody," "My Contacts" or "Everybody."
If you have selected "Nobody" it means you'll have to manually approve every group invite that you receive before becoming part of that group. Users will have three days to accept a group invite before it expires.
This option has now been made available for most WhatsApp users around the world, although it will be present on everyone's apps somewhere in the next few weeks.
WhatsApp Business on iPhone
Great news for Apple users!
WhatsApp Business, a version of WhatsApp that allows small businesses to connect with their customers through the messaging app, has been rolled out internationally on iOS. The free app had previously already been launched back in March on iOS but only to a handful of countries.
What's special about WhatsApp Business is that it gives business owners the opportunity to set up a profile in order to share company details like their email address, store location, opening times and contact times and allowing customers to ask questions about products and services. Messenger has already proven to be a great way for customers to interact with businesses and WhatsApp Business is hoping to be just as effective.
Improved Audio & Animated Stickers
Another new feature that has been noticed in WhatsApp beta is a brand new way of organising and sending audio files or voice notes through the chat app. WhatsApp users will tell you that it is sometimes annoying that you can't listen to your voice note before actually sending it. Well, that's about to change.
The new update will allow users to record several voice notes, organise the order in which they'll be sent and then send multiple (up to 30) voice notes at the same time, saving users lots of time and simplifying the entire process quite significantly.  Here's an example of what it looks like in the beta and what users can expect in the future.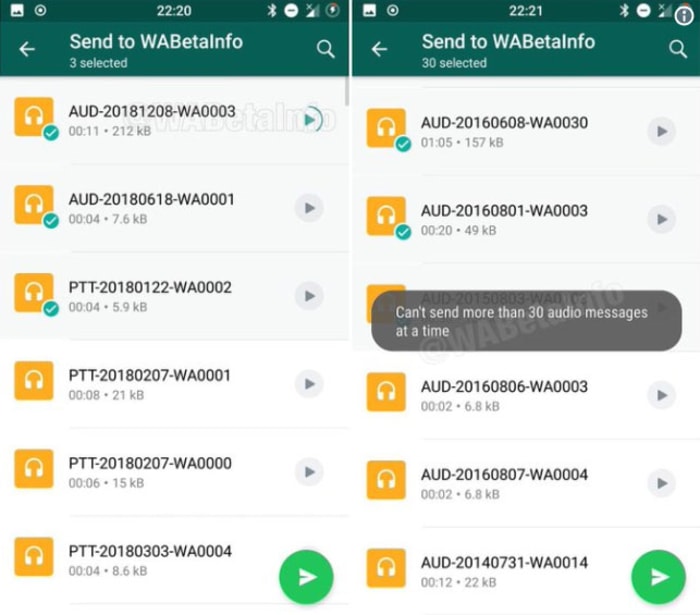 Furthermore, after successfully introducing the fairly popular 'Stickers' to WhatsApp, the messaging application has confirmed it is now working on releasing animated stickers to Apple, Android and WhatsApp Web users.
According to a report by WABetaInfo these animated stickers will play for a few seconds but won't loop as is the case with GIFs.
WhatsApp Dark Mode Coming Soon
Finally, the WhatsApp connoisseurs at WABetaInfo have also claimed that WhatsApp could soon introduce an optionally darker background for night time browsing and messaging, starting on Android.
This feature, already available on platforms such as Twitter & Messenger, will introduce the option for a dark interface, in addition to the current standard white and bright green version. It's more commonly known as "night mode or dark mode".
This feature is currently being beta tested on some Android users, with a worldwide roll-out expected at some point down the line, although no release date has been set.
Get awesome content in your inbox each week.